About Astoundant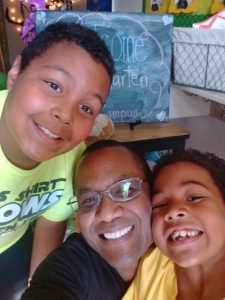 Hi, my name is Van, and here's a bit about me. I hold a B.S. in Business Management and an M.B.A. in I.T. Management. I have worked in the Information Tech industry since 1994 with over 22 years experience as in network engineering and software development. I founded Astoundant in 2017, but the story of how it came to be goes way back to 2008. Enter the Great Recession.
I was a systems engineer and technical consultant for the California Department of Public Health, Women, Infants, and Children (WIC) Program. WIC local agencies experienced a significant uptick in participation due to the recession. At the time, California was issuing over 6 million vouchers monthly for mothers and kids under 5 to get milk, cheese, formula, and fruits and vegetables.
WIC was spending a ton of money at the time on making outreach calls to their participants, and Voice over IP (VoIP) was emerging as something more than garbled Skype calls. WIC asked me to look into a solution that would reduce the agencies' telecom costs. I found a platform that is used in almost every country in the world and that every Fortune 1000 company uses. It is software based and costs pennies to run. Sadly, the effort never got past proof of concept, but I hung on to my notes.
I told some friends in passing what I was doing, and about a year later, a friend of a friend approached me. He was spending hundreds of dollars per month on phone service, and he heard that I might be able to save him some money. I was hesitant to help him at first.
It was just a concept. What if it wasn't reliable? I didn't want to be the reason he went out of business. After a little persuasion, I agreed to to take him on as a VoIP customer. I did some due diligence; ensured his Internet was fast enough, configured and thoroughly tested the platform, and we tested a few different Internet phones until we found him the right one.
He also gave me feedback about his current phone company. He hated getting charged for every feature he added on. He hated looking at his confusing phone bill; most times, he just paid whatever the bill said because he didn't have time to decipher it. He hated needing to pay $40 a month for a separate fax line and fax machine that gets mostly junk faxes. And he absolutely hated having a contract.
So I agreed to charge him a flat rate for all of his calls in North America as long as he didn't start a call center or blast faxes everywhere. Since I could flip features on or off in the software, I gave him every feature that didn't require any custom programming. I switched his faxes and voicemail messages to appear in his email inbox. And I told him he could pay me month to month in case it doesn't work out and he needs to switch back. There were a few glitches in the beginning due to my learning curve, but eventually got him straight. His phone bill went from over $200 a month down to $38.
He referred me to a couple of other owners, and the onboarding process went smoother. We cut their monthly bills in half or more. They told a few people, and so it went. I partnered up a couple of times with friends to make this into a business. Even though we didn't see eye to eye and had to go separate ways each time, customers still got reliable service.
My customers stuck by me, and I went solo in 2017 with the name Astoundant Communications. The objective now is the same as it was then. Internet phones are perfect for businesses who need advanced calling features like music on hold, voicemail to email with text transcription to every employee, call transfer, and ring groups. Some businesses still get the occasional fax and occasionally need to send one. But why pay so much for tech that costs so little?
Small businesses need all the help they can get because I believe they're the backbone of this country. I started this all during the Great Recession, and I still use the same business model. 40 features at no extra charge. Flat rate calling and faxing in North America with a reasonable use policy. Easy to read, simple statements. Every customer is VIP. And no contracts.
All of the original customers who approached me over 10 years ago are still with me. And I'll continue to be there for them and all of the others who took a chance on me.