5 VoIP Features That Justify a DIY Phone System
VoIP Features are still missing from providers offerings despite the fact that business phone service costs are decreasing. We at Astoundant offer 40 standard features with our business phone service, tops in the industry. However, a DIY phone system ensures that you'll get all the features you need to effectively run your business. Five VoIP features alone justify building a DIY phone system of your own.
We'll go over each feature and give example of how they can help. Then we'll go over the overall benefits that make a DIY phone system worth it.
Custom Call Routing
Most of you probably know that you can forward incoming phone calls to different numbers. With custom call routing, you can do so much more. You can forward calls by time of day (like to call time conditions). For example, one of our clients needs high availability of live voices answering the phones, so they stagger staff lunch breaks. When one group of employees take their lunch, incoming calls only ring at the other group of employees' extensions. When the other group takes their lunch, phones ring at the first group.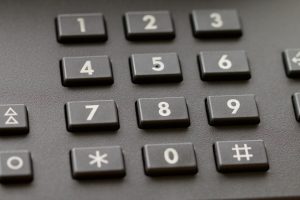 Companies can also use custom call routing in other ways. For inside sales reps who have assigned territories, a DIY phone system can route calls properly to each sales rep based on area code. Also, custom call routing can screen calls: calls from private or block numbers usually indicate telemarketers, so custom call routing can send those straight to a voicemail box.
Music on Hold
Many companies can make do with a standard choice of hold music. However, some companies want or need to stand out. A DIY phone system allows contol over the hold music. If you're a head shop, for example, a choice between classical, jazz, or contemporary pop probably won't cut it. Upload Reggae or Ska. Create your own promotional recorded advertising instead of music. Whatever you choose, be sure to follow the appropriate copyright laws. Upload as much or as little hold music as you'd like, and set it to shuffle. Since a DIY phone system takes MP3's, you can upload as many files as you like and let the system shuffle for as long as you like. No two callers would potentially never hear the same hold music.
Digital Receptionist
For those who prefer not to have a live voice answer calls, a DIY phone system has the Digital Receptionist (AKA IVR) feature available. Record a custom greeting and create your own call transfer choices. The Digital Receptionist feature has so much flexibility that each call can be transferred to the same extension. Additionally, combine it with custom call routing for even more options. For example, if callers can press 3 for support, calls during business hours can route to daytime staff. Instead of having an oncall shift and paying overtime, customers can press 3 and automatically route to an offshore call center.
Conference Calls
Ditch the conference call service and bring it in house on the DIY phone system. Although companies like FreeConference.com provide high quality service, a DIY phone system has one distinct advantage: no 3rd party advertising during calls. In fact, companies have the ability to inject their own advertising for incoming callers. Combine this with custom hold music, and you can turn that DIY phone system into a professional, name brand conference calling instance for clients. Free conference calling service also use toll numbers. Combine a DIY conference calling system with your own toll free number to add a jolt of professionalism.
Appointment Reminders
Probably the most under-utilized of all the VoIP features, appointment reminders adds professionalism and increases kept appointments. Using either voice calls or text messages, DIY phone systems have the capability to reach a list of customers automatically. While 3rd party providers offer this service, a DIY phone system can handle this task much more economically — up to 80% less. A little more expertise is required to setup and configure appointment reminders, but the applications are endless. Tweak the system a little to send text messages to customers. As with all automated calling and texting systems, be sure to follow state and federal spam laws.
Benefits of these VoIP Features
These five VoIP features with respect to DIY phone systems have their benefits. First and foremost, a DIY system saves money. One way is with the ability to shop around for the best per minute call rates. Although we offer unlimited calling for as low as $14.99 per month, competitive per minute rates exist. Additionally, a DIY phone system enables the builder to deploy least cost routing. LCR uses multiple carriers. A little configuration on the DIY system ensures that calls use the least expensive routes. For example, if carrier A has better rates for calls to Florida, but carrier B has better rates for calls to Kansas, a DIY system can be configured to ensure calls to Florida and Kansas route to the best carriers. Finally, these VoIP features give the customer complete control. A new feature can be reconfigured or added immediately without any out of pocket expenses.
Conclusion
With business phone services becoming more competitive, DIY systems still provide major benefits. These benefits make the effort and time to learn about, setup, and configure a system worth spending. These five VoIP features help a business service its customers better and add professionalism at a very low cost.
[siteorigin_widget class="WP_Widget_Archives"][/siteorigin_widget]