ID Theft: a matter of if, not when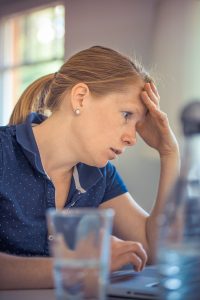 Astoundant strives to help our clients save their time, save their money, and save their sanity. Nothing will drive a person more insane than dealing with the aftermath of ID theft.
The Equifax breach of 2017 resulted in the personal information leakage of 143 million consumers. Identity thieves exposed 41% of Americans' personal financial data: mortgages, credit cards, auto loans, and home equity lines of credit. They also got their hands on our social security numbers, home addresses, and driver's license numbers; many consumers are now at risk of ID theft for years to come.
Small business loans and lines of credit often require a personal guaranty, so this ticking time bomb could devastate owners who need a cash infusion to start, expand or rescue their businesses.
This is but a symptom of a potentially huge problem. Cheryl Cobbin, an Executive Director with LegalShield as an Employee Benefits, Small Business, and Broker Division Specialist, says it's near impossible to prevent someone from accessing PII, or personally identifiable information.
Your PII is Everywhere
"There's so many factors working against us," she said. "So many companies ask for PII. How are they protecting it?" Equifax, a billion dollar corporation, has the resources to implement state of the art security measures. If hackers can breach them, any company holding our PII is vulnerable to attack.
In other words, we might as well carry business cards with all of our PII. Our doctors, banks, credit card companies, and department stores already have our PII. The three major credit bureaus — Equifax, Experian, and Transunion — collect our PII to resell for profit.
Cheryl shared several stories with me of her clients who were victims of identity theft. One had an arrest warrant for a traffic ticket in another state they had never been to. Another had an outstanding bill for a medical procedure they never received. The frightening part: her clients often don't find out until they try to apply for credit. Or worse, a state agency rejects their license for an occupational license after something pops up on a criminal background check.
Once you're a victim of ID theft, Cheryl says, "you're guilty until proven innocent." This could prevent a business owner from conducting even simple transactions: opening a line of credit with a vendor, getting an SBA loan, or even opening a merchant credit card processing account. 
So, what do we, as consumers, do: wait for the other shoe to drop? Unfortunately, since our PII is everywhere, the answer is yes. According to Cheryl, it's a matter of when, not if. Fortunately, LegalShield has an answer to protect consumers.
Three Layers of Protection
IDShield offers three layers of protection against ID theft: comprehensive monitoring, restoration, and consultation. Though it's impossible to prevent ID theft,, IDShield constantly monitors financial information and PII 24/7/365. For as little as $9.95 a month, IDShield protects consumers, and even offers a $5 million guarantee.
When Cheryl said comprehensive, she wasn't kidding. IDShield monitors credit card and bank accounts, social security numbers, phone numbers, and mailing addresses. It also monitors medical records, driver's license numbers, passports, and social media — Facebook, Instagram, LinkedIn, and Twitter accounts. For example, if someone opens a Facebook account with the same personal information, they notify the customer with an alert.
The bulk of the damage happens between the time the ID theft occurs and when the consumer finds out months or years later. By then, it's too late. IDShield monitoring can't prevent the ID theft. The good news: Kroll — the in-house licensed investigators — quickly begins restoration to unravel the consumer from ID theft's thick, twisted vines. Their expertise allows the consumer to go about their business instead of taking months or even years of time away from business and family to deal with the complicated process of proving ID theft.
IDShield also offers advice and consultation as a third layer of protection. Proactive measures help in some manner, and IDShield's specialists provide that information as well as a process to verify the validity of correspondence. For example, if a consumer receives a suspicious email asking for personal information, they can forward it to an IDShield specialist for verification. The specialists also provide advice on any triggered monitoring alerts, and consumers can call an emergency after-hours number.
.
For two lattes per month, protect yourself from the devastating consequences of ID theft. Get three layers of of service and a $5 million guarantee. Most of all, you get peace of mind. Give yourself a chance to get ahead of ID theft before trying to get VC capital, a small business loan, or a professional license.
For more information on IDShield, visit Cheryl's website.
[siteorigin_widget class="WP_Widget_Archives"][/siteorigin_widget]