Why Businesses Should Choose Hosted Telephony Service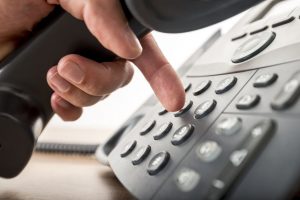 Instead of using hosted telephony service, many business owners get their monthly business phone service from the local telephone company. In the end, they spend hundreds or even thousands more than they should.
The local phone company often requires a long-term contract, binding businesses to years of over-payments. Businesses typically pay per-minute charges for all calls — even for those down the street. They get a few features, and the phone company upsells them for adding any other features.
Astoundant's hosted telephony service comes with 40 standard features at no extra charge. Customers pay a flat monthly rate for calls anywhere in North America. For added reliability, the service includes 4 layers of network redundancy so calls get delivered to your Internet doorstep.
Astoundant backs up its service with a 30 day money back guarantee for new sign ups, and a monthly service guarantee for established customers. If calls do not reach a customer's Internet doorstep, Astoundant will issue a pro-rated service credit to the customer's account. This pro-rated credit covers the period the customer received substandard service.
Business owners get all of these features, high reliability, and at prices lower than any landline provider and most VoIP providers. Astoundant accomplishes this in three ways.
Astoundant's Hosted Telephony Service Uses Cloud-based Software
Traditional phone companies have hard lines and hardware installed all over the place. They send service trucks out to maintain all of this infrastructure, which creates overhead. The overhead costs end up being passed on to the customer.
Astoundant has software installed in a safe cloud environment. We secure the cloud to minimize threats from hackers and malware. We maintain and back up the cloud to ensure high availability. We only use redundant, high speed, backbone Internet connections to ensure delivery to your Internet doorstep. This setup costs much less than maintaining hardware and lines.
Astoundant Hosted Telephony Service has 40 Standard Features at No Extra Charge
Traditional phone companies only offer a few standard features with their service. If a traditional phone company customer gets more than three or four features, they have typically paid extra for each additional service added. Businesses simply can't operate today without features like voicemail, music on hold, and the ability to transfer calls between extensions.
Fortunately, Astoundant's hosted telephony service offers 40 standard features. Every extension gets voicemail, and voicemails get forwarded to an email address. Every service gets free music on hold. Every customer can transfer calls between extensions.
Astoundant customers also enjoy other time saving features. Transfer that persistent salesperson straight to voicemail without ringing an extension. Initiate a 3-way call with an internal extension or external phone number. Transfer calls to an external number. 40 standard features simply provides flexibility and increases efficiency.
Astoundant's Hosted Telephony Service Allows Unlimited Calls Anywhere in North America
Astoundant includes unlimited calling anywhere in North America. Traditional telcos either charge per minute, or offer a limited bundle of minutes. Many VoIP providers cap their minutes as well. With Astoundant, you know every month exactly how much your bill will be. We even offer packages for unlimited faxing and unlimited toll free numbers.
Why do we do this? Keeping track of minutes for every call, every day creates overhead. We would have to make sure we accurately track the minutes and accurately bill the customer. If we make a mistake, there's a good chance customers wouldn't even catch it. But how honest is that?
The cost savings we discovered by using a flat rate model more than makes up for it. Our staff appreciates it. Our customers appreciate it. Everyone wins.
Conclusion
With hosted telephony service starting as low as $14.99 per month, Astoundant provides reliable, cutting edge voice services at a fraction of the cost of traditional telcos. The service also beats other VoIP providers in features and reliability. We also offer a 14 day trial to try out the service and all its features before deciding.
For more information, visit our VoIP section.
[siteorigin_widget class="WP_Widget_Archives"][/siteorigin_widget]