Put VoIP Vendors to Shame With a DIY Phone System
More and more businesses are turning to VoIP vendors to provide business phone service. A few outliers exist: Internet-based businesses who communicate with customers using chat, email, Facebook Messenger, etc. Others, like SOHO businesses and startups, roll with smartphones.
For the most part, brick and mortar businesses with multiple phones need features that smartphones can't handle, like music on hold and transferring calls between phones.
We at Astoundant are about to do something crazy. We are going to pull the curtain back and show what VoIP vendors don't want the public to see. Astoundant will show just how easy it is to setup a DIY phone system.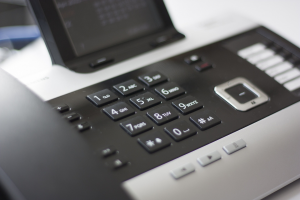 Since we provide business phone service, we're doing a bit of throat-cutting. At the end of the day, we're here to help businesses work more efficiently, service their customers better, and ultimately stay in business. If more businesses stay in business, more people have jobs. The economy gets better. Everybody wins.
What VoIP Vendors Don't Want You To Know
The VoIP industry has a dirty little secret that's been around since about 1999: Asterisk, an open-source telephony platform. Mark Spencer wrote the code and published it under the GPL, where it became first known as an open source PBX. Although Digium sponsors and maintains Asterisk, they have kept the code open source for two decades. This means anyone can use the software.
In a nutshell, Digium upgrades and maintains Asterisk and keeps it free.
Another secret VoIP vendors keep to themselves: a DIY phone system cuts monthly costs without sacrificing quality. With just a monthly SIP trunk fee and per minute charges, this usually beats other VoIP vendors who charge a monthly connection fee per phone.
For example, Astoundant charges $24.99 per month per phone, with 40 standard features for each phone. However, for SIP trunking, we charge $24.99 for the trunk plus $0.029 per minute. For an office with 5 phones, that only has 1000 minutes a month, the cost savings amount to:
DIY Phone System

Astoundant Unlimited Business (Cost Per Phone)

SIP Trunk – $25.00

Connects all phones

$24.99/Phone – $124.95

1000 Minutes @ $0.029 – $29.00

Minutes Included

Total – $54.00/month

Total – $124.95/month
With a DIY phone system, you have complete control. For example, we typically use Jazz for music on hold. Depending on your business, that might not work for you, so you can pick any music genre you want without paying us extra.
Fortune 1000 Companies and VoIP Vendors Use Asterisk
Just about every Fortune 1000 company in over 160 countries use Asterisk as their primary telecommunications software. What started as program written by a budding entrepreneur has evolved into a powerful, enterprise grade system that businesses of any size use. Because it's free, small businesses can enjoy the benefits of a system capable of connecting unlimited devices together.
Astoundant Communications has used Asterisk since 2010 as the basis for its backend service platform. Though we don't know for sure, we suspect just about every other VoIP provider uses Asterisk, too. This means that anyone can use it.
Asterisk by itself has a command line interface, so it looks very intimidating. However, several groups have created web-based overlays for a much friendlier setup. We'll go over those options in Part II.
What's Required to Run Asterisk
A computer with Linux installed on it, and connected to the Internet. That's it. That computer can be a physical or virtual device. If you use a virtual computer, you don't even need to buy any hardware.
You can rent a virtual server from any hosting company, as long as they give you complete control over that virtual server. For some applications, Astoundant uses a company called Vultr for hosting services. Going the virtual server route saves a ton of money because you don't have to spend hundreds or thousands buying a physical computer.

Another advantage to renting a virtual server: maintenance. The hosting company worries about replacing failing hardware. Also, finding space for hardware may become an issue unless your business has dedicated space for it.
Hosting companies also offer backup and recovery services as well as guaranteed uptime. This eliminates all work in maintaining that server, and it keeps the server running in tip-top condition. We recently retired the first virtual server we brought online in 2008. It ran with almost zero hiccups. We only retired it because Digium no longer supports the Asterisk version it ran.
What Else is Required
To do this, you need high speed Internet service. When Astoundant started in 2010, we had to turn away many customers because they could only get DSL. With so many more areas having access to fast Internet, that's no longer a problem.
To place and receive calls, you have a few choices:
Forward calls to your smartphone if you already have a business number. You'll have limited functionality with just a straight call forward, but the other options can give full functionality.
Buy VoIP phones. If your employees use phones at a computer station or desk, this option is best. Many consider Cisco and Polycom as the top brands, but we use Yealink for easy setup and high reliability
Use a landline phone connected to an analog telephone adapter (aka ATA). A less expensive option, but adds a little complexity.
Install free software on a computer, tablet, or smartphone. Google "free softphone" and your operating system; e.g., "free softphone Windows 10," or "free softphone Android."
You'll need a VoIP provider that offers SIP trunking. A SIP trunking provider will give you credentials you can input into Asterisk so your calls will route through the provider.
Lastly, you'll need time to put the system together. It'll take a few hours to setup and configure the server and 15-30 minutes per phone. For those who don't have the time, it might be worth it to higher a tech to put it together for you.
Recap
DIY phone systems are a VoIP vendor's worst nightmare. They're easier to setup than you think, and they cut monthly costs while providing reliability and features.
For the ultimate in control and cost savings, a DIY phone system is hard to beat.
[siteorigin_widget class="WP_Widget_Archives"][/siteorigin_widget]